The article has been updated. First published November 18, 2019
There are many deferred posting services, but SMMplanner is one!
However, today we decided to consider other Instagram feed planners and their features. Choose what you like!
postponed posting at one or different times of video, photo, Gif, as well as deletion through the service;
posting on Instagram, Facebook, Odnoklassniki, VKontakte, Twitter, Telegram, Viber;
posting stories on Instagram;
publication of the link in the header of the account – in Bio;
the ability to publish videos in Stories up to 15 seconds and gifs;
built-in image editor;
automatic text check for errors;
connecting your proxies to safely perform delayed posting on Instagram;
the ability to add a watermark to the image;
placement of geotags in a publication;
automatic addition of utm tags to links;
creation of a full-fledged content plan with the ability to plan a harmonious feed;
adding stickers;
round-the-clock technical support;
Carousel in History – several photos or videos that can be viewed by swiping to the left;
additional free posts are credited monthly;
the possibility of free use;
initial rate – 450 rubles for 5 pages;
automatic acceptance of applications for a subscription to Instagram with the "Professional" tariff;
availability of several tariffs, convenient for every pocket and every type of business.
You can learn how to create attractive and selling content from the course Instagram Sales: Secrets of the Professionals – from SMM.school.
2. KUKU.io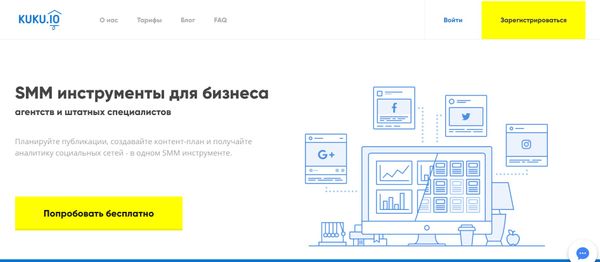 an application for scheduling an Instagram feed and 9 more social networks;
unites pages in different social networks into a common project to work quickly and efficiently and promote the business;
analyzes social networks and suggests how to increase the number of followers and likes;
from the pages connected to the account, you can set up likes and reposts of the desired publication;
automatic publication of pre-scheduled posts;
the ability to provide access to colleagues, management of social networks in a team;
analytics of posts, activities of individual employees, analysis of the effectiveness of the chosen strategy;
free period – only 14 days;
the minimum tariff is $ 7 per month, the maximum is $ 205.
3. NovaPress Publisher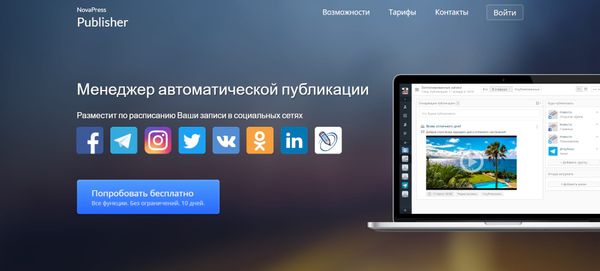 scheduler for Instagram, Telegram, Facebook and other social networks at a given time;
importing materials from the site (automatically, as they are published on the resource or at a certain time);
publishing videos from various sources (Youtube, Rutube, Dailymotion, Coub, Vimeo);
the ability to work in a team, access to a personal account for several users at once;
the ability to add a watermark to images;
automatic publication of utm tags along with links to analyze the number of clicks;
free trial period – 10 days, without restrictions in functions;
base rate – from 125 rubles / month. One page – one group.
4. Onlypult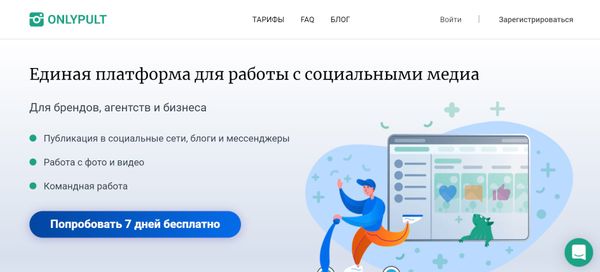 unlimited posting of images and videos up to 1 minute;
the ability to add a geotag;
work with a multi-account, where up to 40 pages can be combined;
shared access for 5 people without giving them a password;
analytics (statistics of likes, comments, change in the number of subscribers, identification of the most successful publication time);
built-in image editor;
the ability to publish photos and videos directly from your computer;
tracking competitors;
free business card page builder. When a subscriber clicks on the only possible link in his Instagram profile, he gets to a microlending page with links to social networks, a portfolio or a price list.;
monitoring of mentions of a brand, topic, company or person in social networks, blogs and forums. Why this is needed, we described in detail in the article "How to safely transfer social networks to an SMM-person";
free period with access to all functionality – a week;
the minimum rate is $ 12 / month.
5. PLANOLY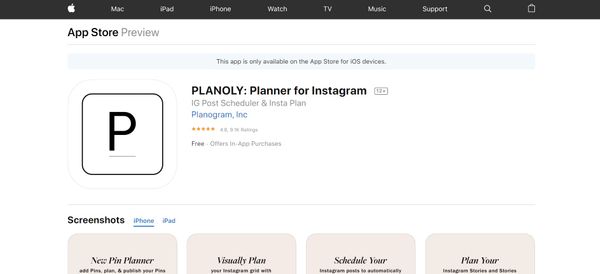 an English-language service for scheduling Instagram, Facebook, Pinterest and Twitter feeds;
a preview of the future post before it is published in the profile (the ability to see how the text and photo will look in the feed);
receiving notifications about the publication of a post, a reminder;
built-in user engagement analytics tools, coverage control;
there is a mobile application for scheduling an Instagram feed;
synchronization with Dropbox and Google Drive;
Splitter tool for splitting an image into several parts;
team management;
automatic publication and scheduling of the first comments;
many templates and stickers for Instagram Stories;
free service, but there are in-app purchases of advanced functionality.
So which one to choose?
Everyone chooses the functionality that is most convenient and necessary in a particular case. For example, it is important for someone to promote their brand, then a built-in image editor and auto-posting will be a must.
To reach as many users as possible, you need access to the maximum number of social networks, and analytics with statistics come first.
But our service is the best (but of course! :)), because it has all the possible tools that replace many other applications.
It is enough to use only it to process photos, upload Stories, add stickers, hashtags and geotags to a publication, make a repost, schedule a feed on Instagram and other social networks, and much more.
Register now in SMMplanner and schedule posts on Instagram and Instagram Stories.