Do you have multiple Instagram accounts or are you actively working from a shared server? Proxy servers can help you avoid blocking. Here's how to use them.
What is a proxy and why to use them for Instagram
A proxy server is a simulator of your IP address. It is needed if you have several Instagram accounts or you are actively working from a common server and want to avoid blocking. The reasons for blocking an Instagram account are different. It is better not to use multiple proxies on one profile, so as not to arouse suspicion on the social network and not to face undesirable consequences.
The proxy also helps to solve the problem when the Instagram profile cannot be connected to SMMplanner.
Who needs proxies
The number of users of the social network Instagram every day is increasing so much that account promotion services have turned into a real SMM niche. But the site administration has its own algorithms for monitoring compliance with the rules. Proxy servers help you to promote your own business on Instagram faster, maintain confidentiality and avoid blocking. Therefore, they are needed for those who actively maintain more than two profiles using SMMplanner or other services.
What proxies for Instagram are and how they differ
Proxy servers for Instagram are divided into 3 groups:
Free. You can find and download them on the Internet or add them yourself when installing the appropriate software. An important point: using free proxies is a risky business, because some data can be stolen from you, or, for example, banned somewhere. Therefore, try not to use free proxies for a long time. Better not start at all
Mobile. They are inexpensive, by connecting Instagram through the proxy of mobile operators, you can bypass most of the locks
Paid. The best kind of proxy, there are packet and personal servers. Individual proxy users get a separate IP address that no one else can use.
To work with the main account, it is better to use paid proxies, which exclude the possibility of blocking.
Where to get a proxy
When choosing a proxy, be guided by the following criteria:
No restrictions on incoming IP
IPv4 (4th proxy version)
Http / https support
Anonymity
Performance (response time less than 5 seconds)
Availability of the httpbin.smp.io resource through this proxy
If any of the criteria is different, then this proxy will not connect to SMMplanner. The best way to find a reliable proxy is to buy one. For example, mobile proxies for Instagram from True Proxy or batch, personal proxies from Proxy Mania.
If this is your first time visiting a website selling proxies, you are probably wondering what IPv4 and IPv6 mean. This is the IP address assigned to a specific device – Internet Protocol version 4/6. IPv6 is a new version of the protocol with a complete structure and set of functions, but not all providers support it. IPv4 is the basic version that most auto-posting services support. The number of IPv6 proxies significantly exceeds the number of IPv4 proxies, so version 6 is cheaper. In any case, be sure to check the technical requirements of your software before purchasing a proxy.
How to enable proxy
SMMplanner PRO users can skip the next paragraph
It is easy to activate the proxy function in SMMplanner. A month of this feature costs 100 rubles, regardless of the number of connected accounts.
First, test the connection – open httpbin.smp.io through a proxy. A successful report will look like this: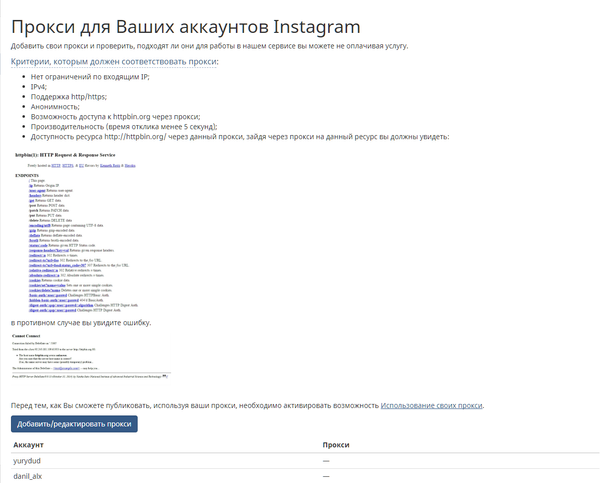 If there are problems with the connection, the picture will be like this:
After connecting your Instagram account in the SMMplanner service, click on your profile in the upper right corner of the screen and open the "Settings" menu item.
Select "Proxy Management". In the menu on the right, click the "Add" button and fill out the form. Here you need to specify the IP address, port, name and password. IP – digits with periods from HTTP (s) -server before colon. Port – numbers from the HTTP (s) server after the colon. The login and password are issued by the proxy seller. After that, click on the add button, wait while the system checks the server status, it will take a few minutes.
When a check mark appears next to the proxy, it means that the server has successfully passed the verification. Click on the "Link to Instagram" button. Click on the proxy selection next to the name of the Instagram account, select the server.
After that, in the "Proxy Management" section, you will see information about the connected servers.
Can a proxy help if the Instagram account is not tied to SMMPlanner
Yes maybe. The problem with connecting to the service occurs in about 10% of Instagram profiles. Why this happens is a mystery.
If you are one of these "lucky ones" and even several connection attempts did not work for you, try to wait a few days. If after this the problem still persists, you will have to find a proxy and connect it.
SMMplanner meets such users halfway. If you can't connect Instagram to our service, and at the same time you do not use the PRO tariff, we will activate the proxy function for you for free. To do this, write to our support – by mail or in social networks: VK, FB, Instagram.
An important point
If you use several services in conjunction with Instagram, use one proxy everywhere – then the probability of running into a block will be minimal.
If you have carefully read the entire article, but still could not figure out something, write, we will be happy to help.
Rather register in SMMplanner and try what is described in the article!